Built by Players for Players
Ben Borton, Sep 25, 2023
From PingPod to PodPlay
PingPod came into existence when David pitched Max and Ernesto on the idea of building a network of small format ping pong venues (Pods) in New York City neighborhoods. A Pod would be street level, highly visible, and act as its own advertisement to people walking by. The key to being able to deliver the smaller neighborhood format was to keep costs low by operating autonomously (i.e. without regular staff onsite). By substituting technology for labor, the PingPod model could simultaneously keep costs low and allow the Pods to stay open more hours than a traditional club. The model held the promise of creating economically viable supply to unlock latent demand for places to play ping pong in New York. But there was one big problem. The technology to operate autonomously didn't exist. So we had to build it.
From day one, our vision was to build a system to operate the Pods that was highly functional but intuitive and easy to use for customers. The founding team had a deep understanding of customer needs because they were: a) customers themselves, and b) deeply embedded in the New York table tennis community. Ernesto was a former #1 player in the US and a sought after coach. Max was an avid player and core member of the infamous TT Addicts chat group dedicated to finding tables and organizing play for members of the community. David had tested his concept by doing a pop-up in Lower Manhattan to see if people would: a) pay to play ping pong on the street, and b) stop and watch ping pong being played on the street (the answers were emphatically YES and YES). Each of the founders loved to play ping pong and wanted to make the game they loved easily accessible to other players.
Version 1 of the tech stack was designed to prove that a Pod could be operated autonomously. The heavy lifting to develop v1 was done by Christine Cha, another table tennis fanatic, who laid the groundwork for how our app looks and feels today. Once the thesis was validated in a single location, we turned to building a system that could scale to hundreds of Pods over time. About this time, Ilya Rivkin, an investor in and customer of PingPod, joined us to lead our engineering team. Ilya's experience as a customer and active member of the PingPod community, as well as his expertise building scaled mobile apps, made him the perfect fit. His previous startup, Clarity Money, was acquired by Goldman Sachs. Prior to that, he spent many years at R/GA, a digital agency, where his major projects were building the Equinox mobile app and the Nike+ running mobile app. It doesn't get much more scaled than Equinox and Nike!
Today, PingPod is operating 20 Pods and we are on our way to 25 by year end, with less than 20 full time employees. This is only possible because of the robust technology stack we have built to power the autonomous experience operating model. Our autonomous model fundamentally shifts the math of the business by simultaneously reducing labor costs and allowing us to stay open 24/7. To get a feel for the Pod Model, you can find a short video showing our tech-enabled Pods and how they work here.
On the back of the success of PingPod, and after having received many unsolicited inbound inquiries about licensing our software, we have launched a second business line offering our full tech stack as a vertical SaaS solution to other recreational venues, with an initial focus on racket sports.
Introducing PodPlay: the Operating System for the Future of Recreational Venues
In Q2 2023, we launched PodPlay, a vertical SaaS offering for recreational venues, and welcomed our first clients in Ping Pong, Pickleball, Padel, and Pool.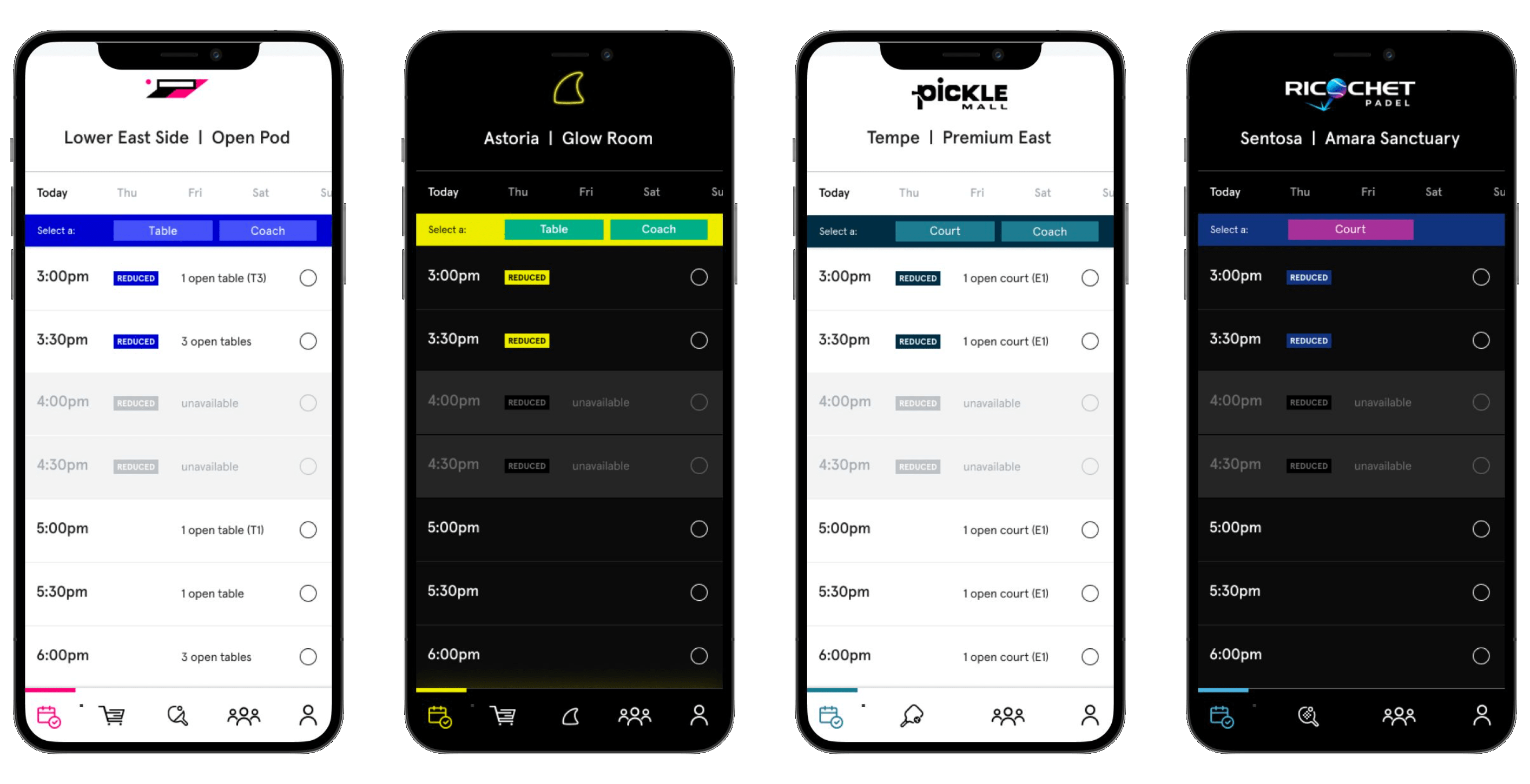 It is a natural progression for us to license the tech stack we built to power PingPods to other like-minded venue operators who want to leverage our model. In many urban areas, the demand for racket sports venues far exceeds the supply. But legacy club and membership models are often inefficient or unprofitable uses of valuable real estate. We regularly meet with aspiring venue operators who are passionate about growing their sport, but struggle with the economics of making their vision happen.
PodPlay gives venue operators a complete set of tools to digitally manage a physical space. Core software creates efficiencies. Replay and scoreboard technology fundamentally alters the in-venue experience. Autonomous mode shifts the economics of the business by increasing capacity and reducing costs. All are integrated into a single intuitive system that allows venue operators to do what they do best: create amazing spaces, promote healthy experiences, elevate their sport, and build vibrant communities.
A Complete Set of Tools to Digitally Manage a Physical Space
The PodPlay solution offers core software functionality to manage a venue, including:
Reservations - a booking platform with an algorithm that maximizes utilization of available courts, while minimizing the need for customers to switch courts. Customers select location, view availability, choose court type, pick a time, and check out in a few clicks.
Events - easily create and promote events such as open plays, tournaments, leagues, and classes that bring your community together. Customers discover and seamlessly sign up for their favorite events.
Coach Connect - onboard coaches to the system and allow them to show availability to customers in app. For any reservation, customers can browse available coaches and add a coaching session in a matter of a few clicks.
Membership - create and manage benefits available to members across multiple tiers. Customers can easily sign up for and manage their membership in-app.
Payments - PodPlay is integrated with payments processing infrastructure (Stripe is our preferred provider). Connect your account and be ready to take payments in no time.
Analytics - track the performance of your venue with simple, intuitive analytics providing insight into trends across revenue, location performance and customer behavior.
PodPlay also includes unique hardware-enabled features that fundamentally change the customer experience and shift the venue business model:
Replays - we install hardware in your venue that allows customers to capture video replays of their favorite moments, delivered to their app for easy sharing on their favorite social channels.
Scoreboard - tablets by each court, paired with bluetooth enabled buttons, allow customers to accurately track game scores. No more confusion about what the score is or who is serving. Scores and replays both show up in the customers´ activity feed and, in the future, will integrate directly with ratings systems.
Autonomous Mode - security cameras, automated door access, and 24/7 remote security monitoring service allow venues to stay open more hours with minimal or no staff.
The above highlights some of the major features included in the PodPlay solution today, but there is so much more to come.
Building with Empathy
If you are a venue operator, why should you trust a company that made its name creating a consumer brand to build the very best technology to run your business?
PodPlay clients may be venues, but we believe we will serve them best by designing an amazing experience for their customers. Our goal, as it has been from Day 1, is to build and refine a system that is highly functional but intuitive and delights customers. True to our roots as a consumer company, the technology we build for PodPlay clients is squarely a B2B2C offering.
We are following a time-tested strategy of building key infrastructure for an operating business, and then licensing that infrastructure to other businesses as a service. Amazon is the iconic example, with AWS and Amazon Fulfillment. While any comparison to Amazon is highly ambitious for a company of our maturity, we share an affinity for customer-centric innovation.
Using our software, PingPod has managed more than 60,000 customers and hundreds of thousands of reservations - and our PodPlay clients reap the benefits of our experience. We can stress-test new features on our own operating business before rolling them out to our PodPlay clients, and our Pods serve as "showrooms" where we can conduct "physical demos" for potential clients (we can demo on zoom with the best of them, but when it comes to the intersection of digital and physical space, there is no substitute for the IRL experience itself).
We build better software because our team uses it everyday to work and to play. All our team members regularly use our app and our Pods to play the sport they love. We strongly believe that the best software is built with empathy - and the best way for us to build with empathy is to be customers ourselves.
If you are interested in learning more about PodPlay head over to our website and request a demo.