The Coaching Flywheel
Ben Borton, Oct 9, 2023
One of the key drivers of fast-growing racket sports like ping pong and pickleball is that almost anyone, regardless of age and athletic ability, can learn how to play and improve their skill level with a bit of work.
The quickest and most successful way for players of all levels to improve is to work with a coach. But it has historically been difficult for coaches and students to find each other and coordinate lessons. PodPlay Coach Connect solves the coordination problem for customers, coaches, and venues, putting more players on the path of continuous improvement.
Coach Connect for Customers
The PodPlay Coach Connect feature makes it simple for customers to find the right coach for them. They can simultaneously book a court and a lesson with just a few taps.
Customers can browse coach profiles to find the right match for their level and style of play:
Select a Coach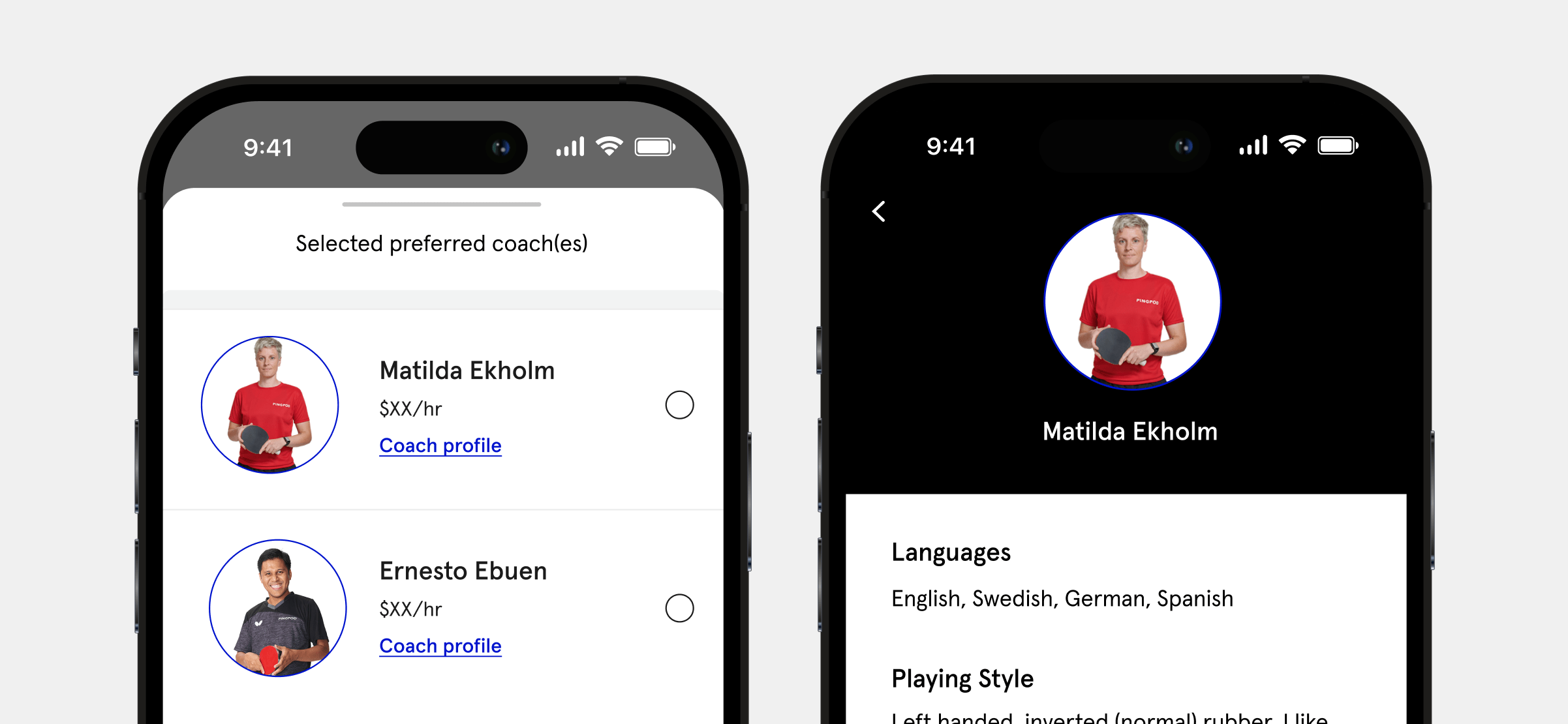 Check when both the coach and a court at the customer's desired location are available, and easily reserve the court and coach simultaneously:
Book Court and Coach Simultaneously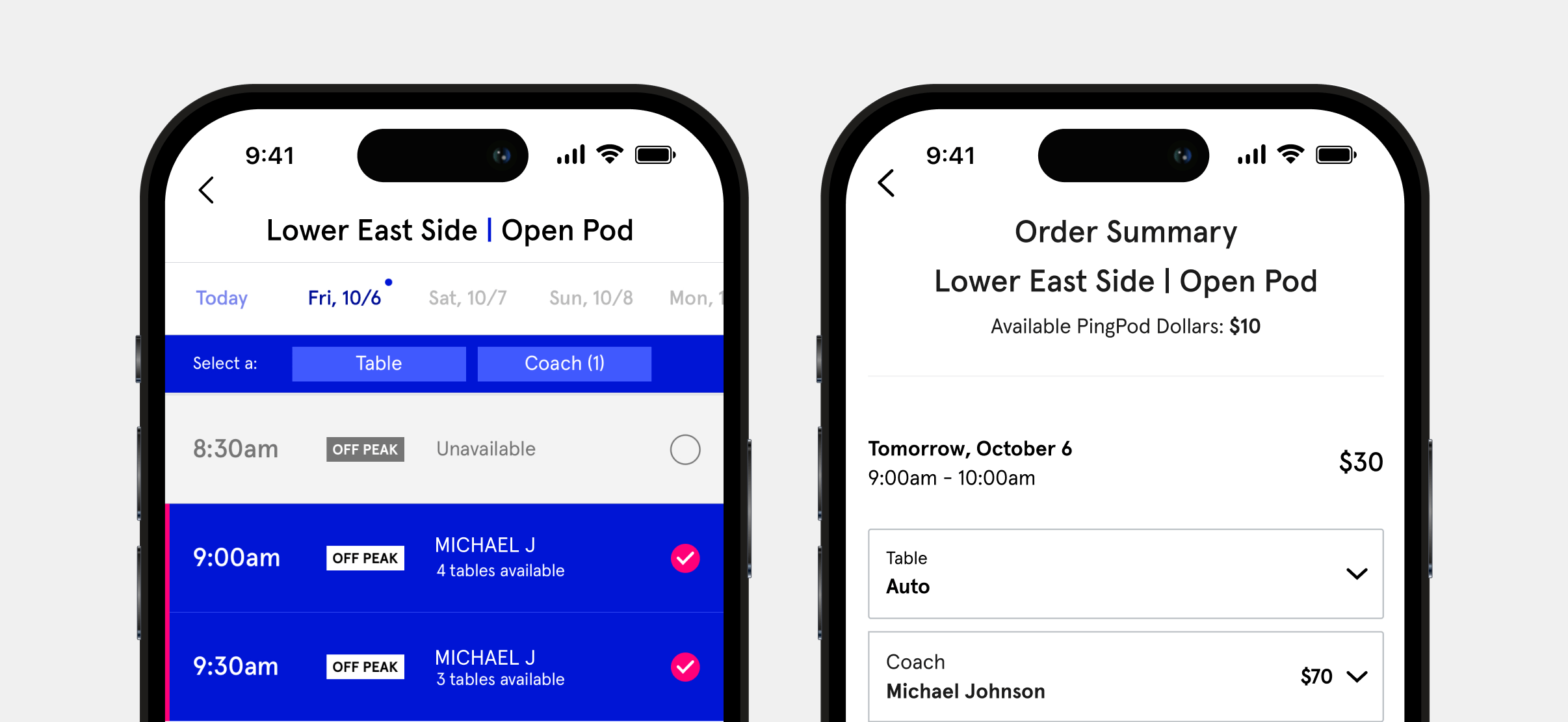 It's as easy as that! No texting back and forth to organize time, place, or payment. Everything is available in the app. When finding the right coach is this simple, more customers level up their game with coaching. As these players improve, they enjoy the experience more, and want to play more frequently.
Coach Connect for Coaches
PodPlay Coach Connect allows approved coaches to manage their availability, locations, required notice time, customer list, and connect their bank account. Each coach has a dashboard to manage their settings that includes:
Details: coaches enter their name, hourly rate, profile picture, and a biography, which form a coach profile that customers browse in the app.
My locations: for venue operators with multiple locations, a coach can select which of the locations to make themselves available for booking.
Students List: the default setting makes a coach available to any customer, but coaches can limit availability to a defined client list if they choose.
Weekly Availability: coaches with fixed availability schedules can set it and forget it.
Notice Cushion: the amount of notice the coach requires before a coaching session, which is dynamically built into the availability shown to customers.
Payments: coaches that connect a bank account get paid directly, rather than waiting for the venue to collect and pay out their coaching fee.
Buffer: For coaches who make themselves available at multiple locations, set a buffer time to ensure they have enough time to travel between locations for booked lessons.
All of these features make it easy for coaches to spend their time coaching rather than getting mired in administrative details. Existing customers love the ease of booking and ability to see a coach's availability. And by creating a profile on the venue's platform, coaches will increase their visibility and be discovered by new customers.
Coach Connect for Venues
Customers who receive coaching are of much higher value to a venue than the average customer. At PingPod, a customer who receives coaching has generated, on average, 17 times more revenue than a customer who has not received coaching.
PingPod Average Revenue Per Customer

How much of this effect is correlation versus causation? Are these numbers inflated because customers who receive coaching are already more engaged, or does getting coaching actively affect customer engagement?
PingPod data shows that getting coaching leads to increased engagement. Customers who received coaching have generated 5x more revenue after their first coaching session than they did before.
PingPod Revenue from Coached Customers

The numbers tell a clear story: coaching helps venues unlock high value customers, and sets those customers on a path to even more engagement.
PodPlay Coach Connect makes developing an active coaching practice simple for venues. All venues have to do is recruit and approve coaches and onboard them to the platform. PodPlay does the rest!
The Coaching Flywheel
PodPlay Coach Connect facilitates a win-win-win scenario for customers, coaches, and venues. When a coach with an existing practice onboards to the venue's coaching platform, that coach is gaining a new space to conduct business (think office space). By joining the venue coaching platform, the coach gains exposure to the venue's customer base and gains new customers for his or her coaching business. Customers are introduced to a high-quality venue, usually near where they live or work. Those new coaching customers see their game improve and increase their engagement. Venues gain new high-engagement, high-value customers, and see engagement levels of existing customers increase.
The Coaching Flywheel Effect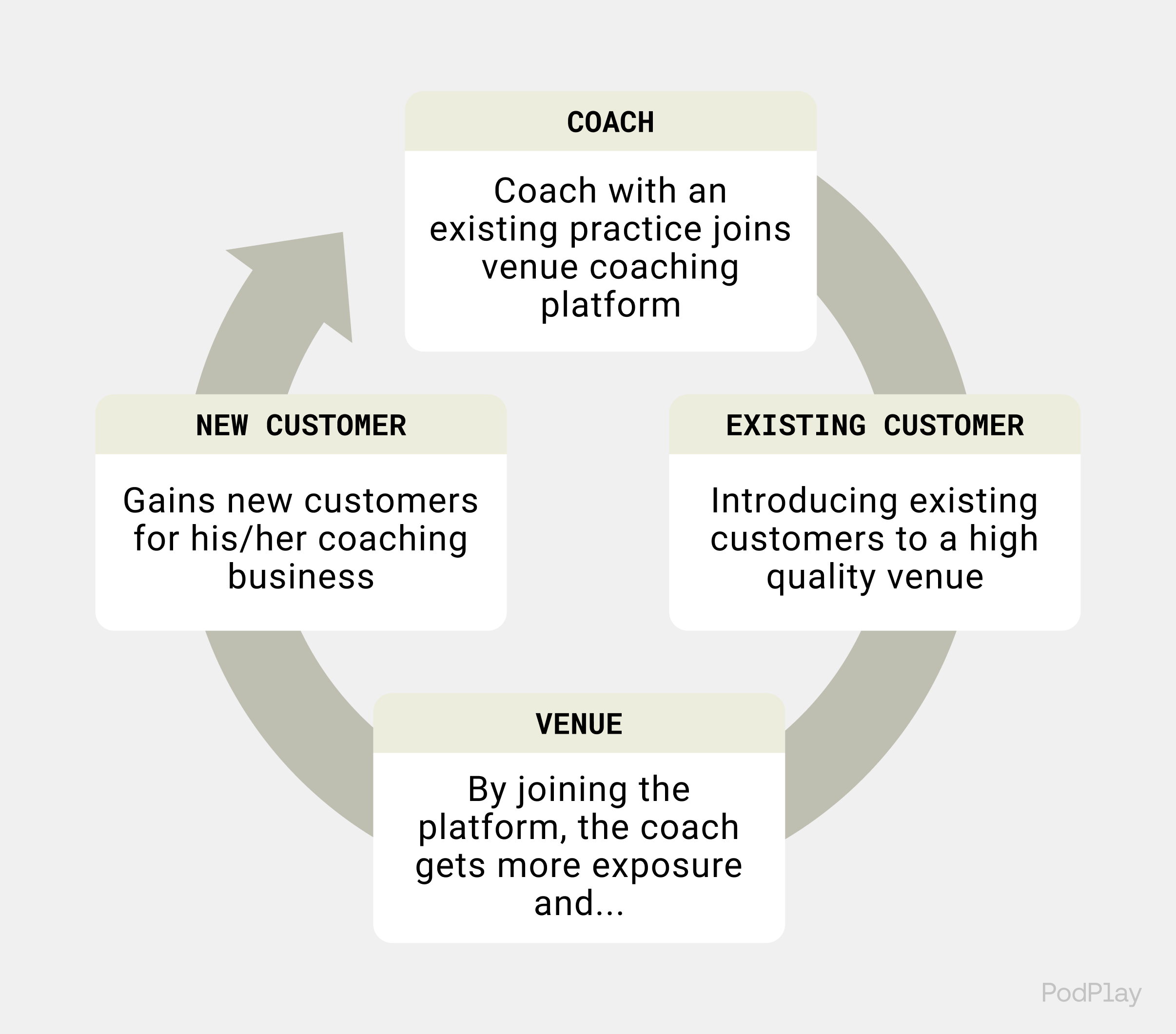 For venues that are just starting out, empowering local coaches to join their platform is a powerful tool to activate their community and take their venue to the next level.
The PodPlay Advantage
Coach Connect is one of several sought after features of the PodPlay SaaS offering, which will be the subject of future blog posts. PodPlay gives venue operators all the tools they need to digitally manage a physical space - integrating video replays, automated scoreboards, and autonomous functionality with a reservation engine, event management, coach connect, and payments.
Originally built to power PingPod, the network of futuristic autonomous ping pong clubs, PodPlay is being used today to manage venues across pickleball, padel, ping pong, and pool, with more sports to come in the future.
If you're interested in learning more about jump-starting your coaching ecosystem with PodPlay's Coach Connect, head over to our website and request a demo.